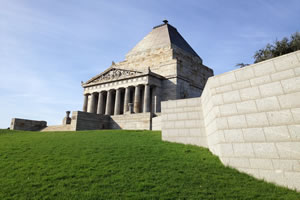 Anzac Day Melbourne starts with a dawn service at the St Kilda Road Shrine of Remembrance. In fact most towns in Victoria will be having a Dawn service at their respective memorials. Melbourne's Anzac dawn service is attended by up to 100,000 people honouring those that fell in the war in Gallipoli over 100 years ago. In recent years record crowd have attended this service with no regard to weather. Even if it rains the crowd still pays it respect in great numbers.
Later in the morning the Anzac Day Parade takes place with great numbers lining the streets to pay respect. It's a great time to be in Melbourne and if attending both official Anzac events then many venues will be open for breakfast to feed the large numbers of people in the City. And afterwards it might be time for some lunch or a quenching drink to digest all the emotions.
Many great sporting events are on Anzac Day with the traditional game of "two up" played out at the Flemington Races. And at the MCG the traditional Collingwood vs Essendon football game will take place.
Two Up is a gambling game with traditions to the Aussie Diggers. It is only legally played on Anzac Day. Many venues will have a "two up" ring! Enjoy your Anzac Day in Melbourne!
ANZAC Day Events in Melbourne
Here is some ideas of things to do in Melbourne over the ANZAC Day long weekend.
ANZAC Day at Hopscotch

Post Dawn Breakfast from 7am followed by LIVE AFL action on the Big Screens. Enjoy a day out with your mates with the big Anzac Day clash between Collingwood and Essendon.

LIVE Music from 12pm | LIVE AFL from 3:20pm

Website

|

Email

ANZAC Day

Head in to Harlow on ANZAC Day for a sensational Sausage Sizzle followed by the big game at the G between Collingwood & Essendon LIVE on the Big Screen. Plus enjoy the Diggers Burger special for $20,

Sausage Sizzle from 12 | LIVE Footy

Website

|

Email

ANZAC Day Footy at Wharf

Get your ANZAC day footy fix at the Wharf Hotel with the big game between Collingwood & Essendon shown LIVE across 5 big screens. Enjoy specials including Furphy Mega Jugs. Plus Steak Night from 5pm.

Food & Drink Specials | LIVE Footy on 5 Big Screens

Website

|

Email

ANZAC Day Eve Party

Head to the Temperance Hotel on Melbournes Iconic Chapel Street for one of their biggest nights of the year. Party with Melbs best DJ's and Live music. Open ANZAC day from 12pm with the AFL LIVE

No Cover Charge | Drink Specials

Website

|

Email

ANZAC Day Hot Breakfast

Attendiong a Dawn Service this ANZAC Day? Why not Head in to Young & Jackson for a delicious Hot Breakfast. With 2 sepcail menus on offer includig a hot cup of coffee. Plus Two-Up being played from 10am.

Book Now for Hot Breakfast from 7am

Website

|

Email

ANZAC Day Breakfast

BearBrass is opening it's doors early on ANZAC Day with a special breakfast menu from 6:30am. Going to the footy? Take advantage of BearBrass' Water Taxi package with return water taxi tickets to and from the game, set menu and drink.

Open from 6:30am | Water Taxi's to the Footy

Website

|

Email

ANZAC Day Double Header

Enjoy the 2 big ANZAC Day sporting clashes on the big screens at Turf with Collingwood vs Essendon from the MCG in the afternoon followed by Melbourne Storm vs the NZ Warriors in the evening. ANZAC Day Sport LIVE & LOUD at Turf!

Drink Specials | LIVE Sport

Website

|

Email

ANZAC Day

The big Anzac Day match is live and loud on the Big Screens at Terminus this Anzac Day. Enjoy the match with a some of the chilled beer on tap. Footy & Beer, what more could you want?

Drink Specials | LIVE AFL Action

Website

|

Email
ANZAC Day Melbourne Community Events
| LOCATION | VENUE | EVENT | COMMENTS |
| --- | --- | --- | --- |
| Melbourne | St Kilda Rd | Melbourne ANZAC Day March | This annual event starts around 9am at the cnr Flinders and Swanston and head to the Shrine along St Kilda Rd. Veterans and some descendants. A very proud event that Melbourne loves! |
| Melbourne | Shrine of Remembrance | Melbourne ANZAC Day Dawn Service | Plan to arrive early (around 5am) for this event as crowds can be quite large. It starts at 6am. A most revered event at the Melbourne Shrine and you can head into town for breakfast afterwards. |
Get out and about this Anzac Day
Around Melbourne there are some great day trips to plan and to make with your loved ones and family or just friends. One awesome place to visit south of Melbourne is the Mornington Peninsula. There is so much on offer with famed beaches, lots of parks and awesome towns like Sorrento, Portsea and Flinders to visit. And that doesn't even scratch the surface of the plethora of wineries and golf courses and other activities in this Morningon Peninsula region.
But this is about the context of Anzac Day so let's look at something relevant. And it doesn't take long to recall Melbourne's history in World War one down at Fort Nepean near Portsea on the Mornington Peninsula.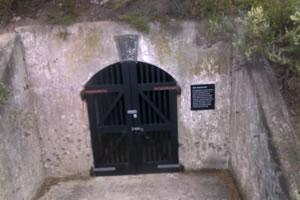 To get there just head down the Monash Freeway (named after the famed Australian Military Commander in WW1 and also super engineer Sir John Monash). Switch to the Eastern Fwy and then the Peninsula Link Fwy. At the end follow the signs to the Nepean Hwy and down to Portsea ... keep going and your there!
Entry to this Point Nepean National Park is free and you sort of self tour after getting the bus from the car park to Fort Nepean. Oh yea ... sorry the bus trip costs ... but well worth it!
Fort Nepean was the first point of defence for Port Philip Bay and Melbourne and burbs!
It was a strategic military outpost. And in fact has the history of firing the first shot in World War One when a Germany merchant ship tried to leave Port Phillip Bay after war was declared.
it's always best to stay more than one day on the Mornington Peninsula ... And you may want to also look at some options of places to stay on the Mornington Peninsula. Here are some ideas we have for you.
Woodland By The Bay in Mt Martha - great B & B and self contained accommodation.
Boardwalk Cottages in Mt Martha - super cottage accommodation.
Bay Watch Mount Martha - books out so hurry
Mt Martha Beach House in Mt Martha - apartment and cottages at seasonal prices
And these a little bit further afield ...
Kanturk Country Retreat in Sommerville - great group type accommodation
Chadwick Cottages in Berwick - great B & B accommodation
Warley Cottages in Gembrook - B & B cottages at base of Dandenongs
The Hill at Queenscliff - over at Queenscliff and get the ferry across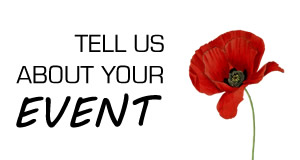 More Big Days for Melbourne
Anzac Day is at the end of April in Autumn and with June being the start of Winter it's time to fire up again for more Big Days. The long weekend near the start of June is the Queen's Birthday weekend in Melbourne. The weather can be a little bit colder but there are still plenty of ideas for things to do on the Queen's Birthday weekend in Melbourne and surrounds. And that June long weekend holiday also marks the start of the snow season in Australia.